Private Piano Lessons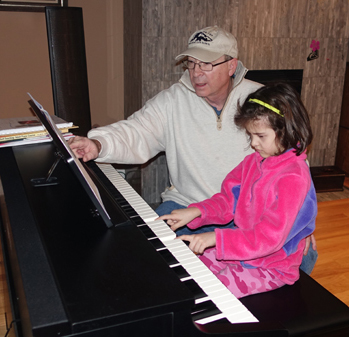 The Silbernik Music Academy offers private piano lessons for all proficiency levels, from 7 year olds to adults.
Whether your preferred genre is classical music, jazz, rock, country or whatever, the piano is a great instrument.
Whether your goal is to be a soloist, accompanist or play in a band, the piano is a great instrument to know!
The piano is one of the most versatile instruments you can study. It is often considered a springboard for the study of other instruments.
Piano is the one instrument that most composers have played and written for.
Learning the piano teaches melody, harmony, reading music in both bass and treble clefs, music theory and much more. All of these skills transfer to other instruments.
Whether you are an adult who has always had playing the piano on your bucket list, a child who is just starting out, or someone who wants to get their skills back after an extended layoff, we can help!
If you are advanced and just want to learn more, give us a call!
Our piano lessons are custom tailored to each individual students' pace and musical tastes.
Private Lesson Pricing:
| | |
| --- | --- |
| Duration | Private |
| 30 Minutes | $30.00 |
| 45 Minutes | $45.00 |
| 1 Hour | $60.00 |