Guitar Lessons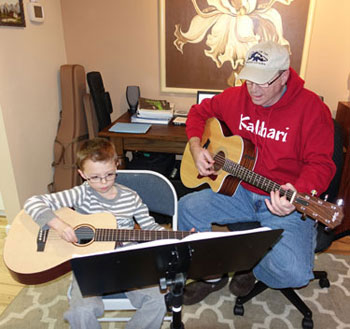 The Silbernik Music Academy offers private guitar lessons for all proficiency levels, from 7 year olds to adults.
Guitar Lessons Designed for You
Our private guitar lessons are custom tailored to each individual students pace and musical tastes.
Whatever your musical preference -- Rock, Blues, Jazz, Country, Folk, etc., we will design guitar lessons around your personal tastes.
Whether you (or your child) are dreaming of becoming a famous guitar player, performing with a live band, or you just want to play for enjoyment, we will develop the right guitar lessons for you to achieve your objectives. If you want to sing songs with your grand kids, we will design guitar lessons that teach you what you need to know!
Some Benefits of Playing the Guitar
The guitar is an instrument that brings people together as a group and connects them through music. Few instruments equal a guitar when it comes to uniting people.
Playing the guitar is fun! However, there are benefits besides just having a good time.
Studies have concluded that areas of the brain responsible for memory are stimulated while playing the guitar.
Playing the guitar provides great cognitive benefits for improving focus, intelligence, and motor skills. In addition, playing the guitar can be deeply therapeutic. As long as you play the guitar, you can entertain friends and family members with songs until your fingers no longer allow you play.
These benefits only scratch the surface of the advantages that learning the guitar provide.
Begin Your Guitar Lessons Now!
Whether you are 7 years old or 80 years old, it is the right time to start playing!
If you are an adult who is considering starting the guitar, you should know that you are never too old to learn.
Guitar lessons are held at our Highland Park, IL studio. We also offer online lessons.