Ukulele Lessons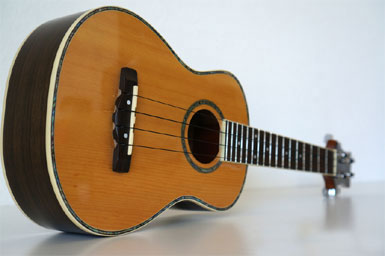 The Silbernik Music Academy offers private ukulele lessons for children and adults, starting at the age of seven.
Whether you want to learn to play an instrument to have fun, or you want to become a serious musician, we will develop the right ukulele lessons for you to achieve your objectives. If you want to sing songs with your grand kids, we will design ukulele lessons that teach you what you need to know!
Some Benefits of Learning the Ukulele
The ukulele is a great instrument for younger children to begin their musical journey with, and is quickly gaining in popularity.
Given its relatively small size, the ukulele does not present the physical challenges that larger instruments, like guitar, can present.
Children (and adults) are able to begin playing chords and songs in a relatively short period of time, often after their first lesson!
If a student wishes to switch to the guitar, and is physically ready to handle the larger size of a guitar, the transition is relatively smooth. Most students adjust to the differences between the two instruments quickly.
Many of the skills acquired by learning the ukulele, such as picking, learning to finger chords, etc., are also skills that are required for guitar.
Begin Your Ukulele Lessons Now!
Whether you are an adult that just wants to have a great time playing, or a child (age seven or above) that wants to start learning a musical instrument, the ukulele is a great instrument to learn! Do not delay! Now is the time! The sooner you start, the sooner you will be enjoying the benefits of playing a great musical instrument!
As with all our lessons, our private ukulele lessons are custom tailored to each individual students pace and musical tastes.
Ukulele lessons are held at our Highland Park, IL studio. We also offer online lessons.