Private Guitar Lessons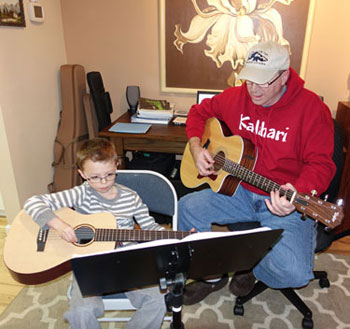 The Silbernik Music Academy offers private guitar lessons for all proficiency levels, from 7 year olds to adults.
Playing the guitar has numerous benefits that can greatly enhance a personís life. Among other things, learning to play the guitar promotes creativity, self-confidence and allows you to grow as a musician.
Whether your child is dreaming of becoming a famous guitar player, performing with a live band, or just wants to play for his/her enjoyment, we will design a curriculum to help them achieve their objectives.
If you are an adult who is considering starting to play guitar, you should know that you are never too old to learn! Regardless if you want to sing songs with your grand kids, or just play for your personal enjoyment, we will design a course specifically for you!
Whether you are 7 or 80 years old, it's the right time to start playing!
Our private lessons are custom tailored to each individual students pace and musical tastes.
Whatever style of music you want to learn, Rock, Blues, Jazz, Country, Folk, etc., we will design your lessons around your personal tastes so that you can achieve your objectives.
Private Lesson Pricing:
| | |
| --- | --- |
| Duration | Private |
| 30 Minutes | $30.00 |
| 45 Minutes | $45.00 |
| 1 Hour | $60.00 |